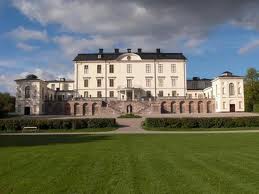 Went to see some castles yesterday.  Yep, that's what you do here in Europe when you're bored.  There's always a few castles somewhere.
These were pretty nice.  One had been converted into a hotel I can't afford and I have no idea what was happening with the other, but it was much smaller.  There was a tiny beat up Mini parked next to the smaller castle.  I guess if you pour that much money into living in a castle, you're going to have to cut back somewhere.
I decided that my family could do nicely in the smaller castle (although it was a bit far from a grocery store).  Here in Sweden, the living space is so small that we don't get to be like many Americans who have rooms they don't use.   At least half of my friends have rooms in their houses bigger than our bedroom that are "just for storage."  The older people always have that one living room that kids aren't allowed to go in and no one sits in with the fancy furniture.
Here in Sweden, we have bedrooms the size of Texas closets.  In fact, I tried to make a guest room out of our closet, but my husband said it woud be rude to make someone sleep in there.  I don't see why.   It's quite comfortable in there if you don't mind all the Christmas decorations and suitcases.
I need a castle.